ETSATISFACTION – Everyone says that they offer great service but Executive Travel proves it. Over half of the Fortune 1000 companies use the Net Promoter Score (a customer loyalty index). NPS Scores ranges from -100 to 100. To date, Executive Travel scores a 91 distinguishing it as one of the premier companies in the world in regards to customer loyalty and satisfaction.
If you are looking for great service, start with Executive Travel. It's not what you say that matters, it's what you do.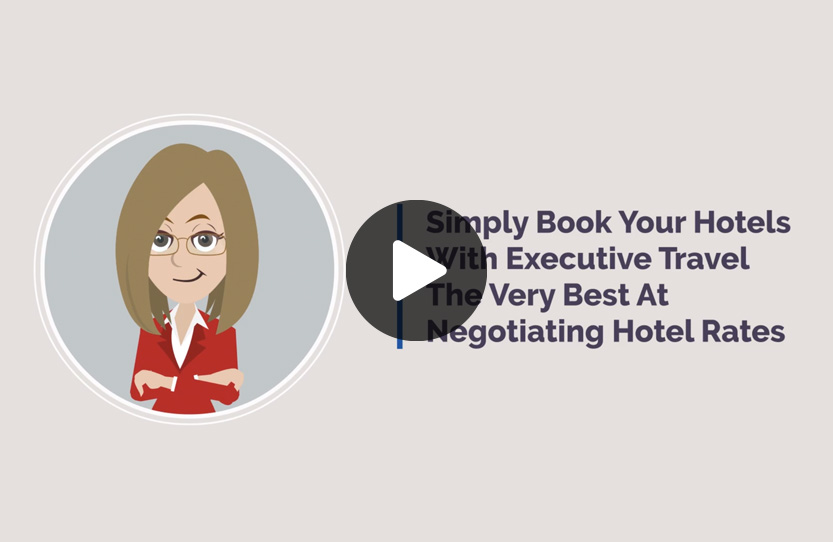 ETSOURCING – Executive Travel took on the myth that Expedia offers the lowest hotel rates to see if Executive Travel negotiated hotel rates were competitive.
Executive Travel engaged Zulu Solutions to compare hotel rates in 433 random cities, at 921 properties and discovered the Executive Travel-negotiated hotel rates were lower than Expedia at 91% of properties by an average of $36.41.
Finding the best prices for hotels for your next business trip is easy. Simply book your hotels with Executive Travel, the very best at negotiating hotel rates.
ETZERO- Tired of getting nickel and dimed with travel management company transaction fees? ETZero is Executive Travel's exclusive program that eliminates full service and online transaction fees.  Using next-generation sourcing with airlines, hotels, and car rental companies Executive Travel generates revenue for your company that can be used to eliminate both full-service and online transaction fees. Call on the phone – $0 fee, email us- $0 fee, go online – $0 fee. Let us show you how our world-leading travel management programs leverage next-generation sourcing to eliminate your transaction fees. ETZero – The newest innovation by Executive Travel to Simplify Travel.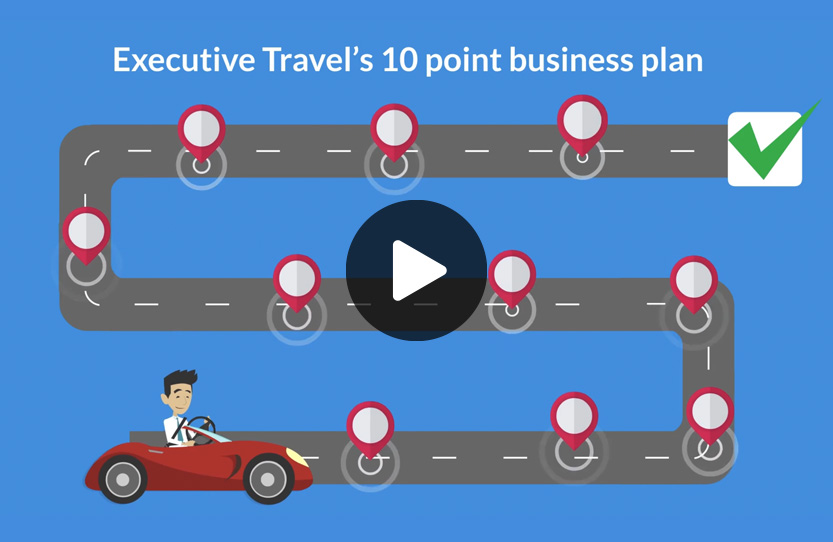 ETROADMAP- A goal without a plan is just a wish. ETRoadmap is Executive Travel's battle-tested exclusive 10 point business plan that maps out every step of your travel management program so that your company can meet your goals in all areas of Contracts, Travel Policy, Products & Services, Supplier Management (Savings), Client Satisfaction, Program Compliance/Expansion, Operations, Traveler safety and security, Payment, and Travel Reporting. Preparing for the future is done by planning for it today.
ETRoadmap prepares travel departments to look beyond the past and build for the future. ETRoadmap builds a visualization dashboard that allows your team to easily understand your progress and implement accountability and visibility that turns your travel management goals into reality. ETRoadmap – The newest innovation by Executive Travel to Simplify Travel.
ETENGAGE- Did you know less than 20% of employees are actually engaged? Imagine the impact improving engagement can have on your company's success and bottom line. Increasing engagement increases employee satisfaction and productivity which leads to an increase in compliance, savings, and duty of care.
Executive Travel offers a solution known as ET Engage that is focused on engaging employees in the travel program by increasing their knowledge in the travel policy, preferred supplier relationships and obtaining feedback on what is and is not working for them.
ETSECURE- Executive Travel's unique, highly personalized, travelers centric travel management program that is the perfect fit for the current and post COVID-19 traveler world. Unlike our Mega TMC competitors who argue Bigger is Better by offering cookie-cutter, one size fits all solutions, Executive Travel's  ETSecure builds customized high tech solutions with personalized service.
Travel management programs today need to provide travelers with people, support systems, and processes that save the company money, make traveling easier and protect travelers as they travel around the world on company business. ETSecure lets you know where your people are and how to communicate with them 24/7. ETSecure – The newest innovation by Executive Travel to Simplify Travel.
ETREZ- Everything we do is tied to our core value of urgency. When Executive Travel says they are the fastest TMC in the industry we mean that all our services put the highest priority on the speed and ease of doing business with us. Let's face it, one of the biggest points of pain for many people is having to call a company and press 6 buttons only to be put on hold for 5 minutes and finally getting to talk to someone who does not know you.
Executive Travel has thrown out the call center model and replaced it with our Platinum Advisor service that allows travelers to select their personal dedicated travel advisor who provides each traveler with their direct phone number and email address for VIP service without the VIP cost. Platinum Advisor Service – The newest innovation by Executive Travel to Simplify Travel.
ETSAVINGS- Everybody says they can save you money. Executive Travel puts their money where their mouth is with ETSavings, our exclusive 25% travel management savings model.
ETSavings implements our 15 point savings plan that allows you to align your company goals, objectives and culture with the opportunity to save up to 25% using our proven travel management model. And the best part is ETSavings is backed by Executive Travel's ETGuarantee. If you are looking for the perfect balance of service and savings now is the right time to apply ETSavings to your travel management program.  ETSavings – The newest innovation by Executive Travel to Simplify Travel.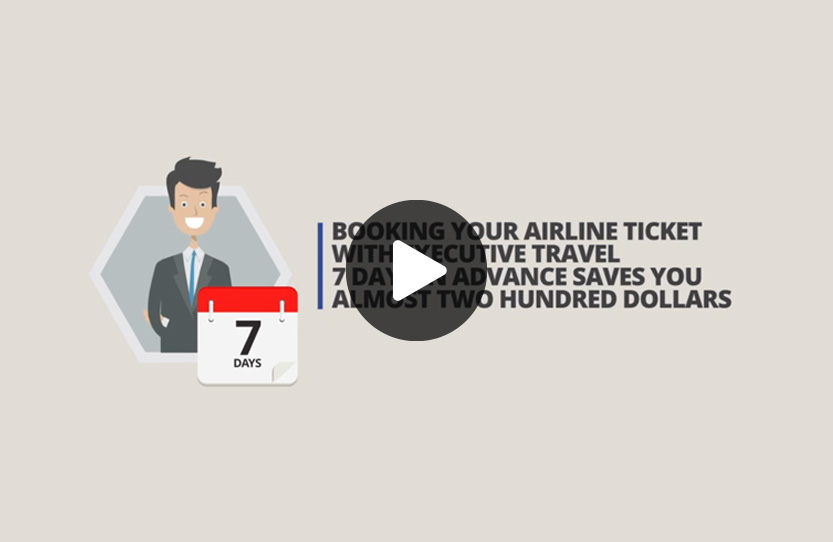 ADVANCE BOOKING- A recent study by Executive Travel reviewed ticket prices to 15 top destinations in the U.S. and found that the average round-trip airfare for same-day departure was $563.
If you make a reservation 7 days in advance, the average airfare drops to $369, a savings of $194.
If you make your travel reservation with a 14-day advance purchase, the average price drops to $247, an additional savings of $122.
HOTELZIP – Is an app that shops for you to find the best hotel rates available. This app saves customers an average of $19.74 per night on hotel reservations.
Simply contact Executive Travel to book a reservation, and the app automatically sends you a new itinerary with lower rates and updated reservation numbers as rates drop.
TRAVEL TIPS- Take note of these 5 smart travel tips to ensure you are getting the most out of your money when you book a trip!
When you book with Executive Travel, we have your back. We are able to monitor your safety and security and it gives you the advantage of being ahead of schedule should a cancellation or delay occur.
AMBASSADOR SERVICE- Executive Travel is pleased to announce our new and prestigious Executive Club Ambassador Service. This VIP concierge service is designed to provide company executives and frequent travelers a highly personalized, and streamlined travel experience.
To receive our prestigious and white-gloved service today, contact Executive Travel at 402-435-8888. Let us simplify and streamline your travel experience with the best possible service and support.
POINTS TO CASH- This is an automated system that redeems your company points and miles for expensive airline tickets and turns them into a quarterly check from Executive Travel to your company.
For every one million dollars in airline tickets, a company purchases the Points to Cash system that can generate up to 3,000,000 free airline miles. That's enough for 120 free domestic airline tickets that can generate as much as $72,000 dollars in cash for your company.
POINTS SIMPLIFIED- Booking award flights and hotels using points and miles can be a headache often taking days to research and book the flights you need with the points you have.  But are you getting a good deal? Introducing "Points Simplified" by Executive Travel.
Points Simplified is a new service designed to make using your airline, hotel, and credit card points easy.
ETGREEN-  Executive Travel's initiative to help offset the carbon emissions generated by our travelers resulting in the removal of 48 million pounds of carbon from our atmosphere annually by planting 1 million trees.
For every airline ticket purchased from Executive Travel, we will plant one tree using a network of volunteers, employees, small businesses, and individuals. The more trees we plant, the more carbon we can offset and the more beautiful our communities will become.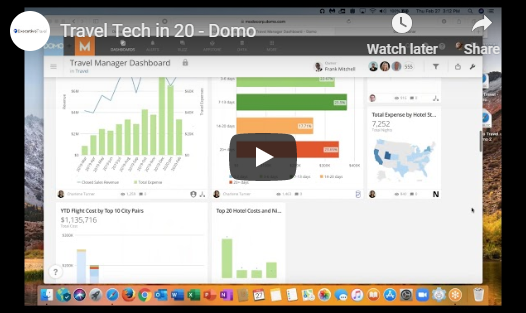 DOMO
Domo securely connects and combines data from any on-premises or cloud source to create real-time visualizations and enable your teams to find new insights on any device. With Domo, you can identify and track all travel spend to eliminate leakage and waste saving your company money.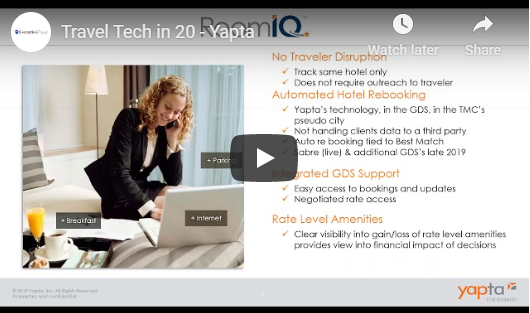 YAPTA
Yapta dynamically tracks prices on all your company's booked airline tickets and hotel rooms, sending instant savings alerts when prices drop. On average, that average traveler saves $369 per trip, resulting in millions of dollars saved in your travel program. No longer do you have to worry about getting the best flight or hotel deals. With Yapta, it's guaranteed.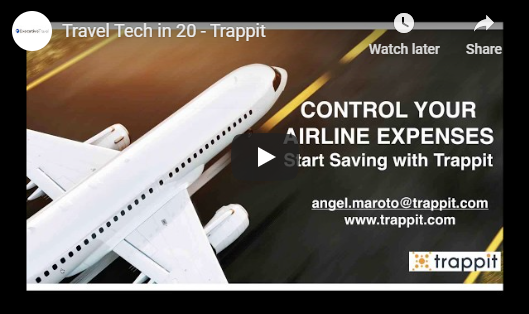 TRAPPIT
Trappit is a global re-shopping post-ticketing airline solution for corporations and travel agencies to help them control their airline expenses. Founded in 2014, Trappit developed proprietary and patented software called ARPO (airline revenue price optimization) to monitor airline ticket prices. ARPO searches for lower fares on purchased airline tickets and when it finds a lower fare, it notifies the travel agency, so they can rebook the ticket. Trappit solution provides a 2-5% savings on air travel costs depending on the client's travel policy and industry.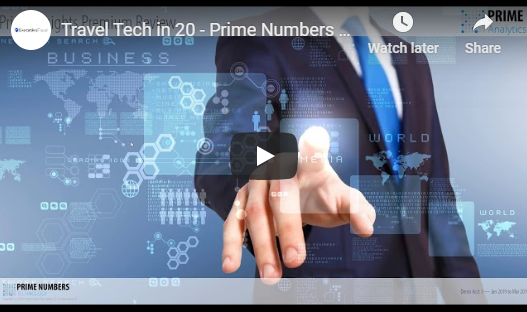 PRIME NUMBERS TECHNOLOGY
Prime Analytics provides users with the ability to manage goals, maximize ROI, explore custom analytics, manage suppliers, and perform benchmark comparisons against our extensive database. Prime Analytics delivers all the tools you need to effectively report on and manage your company's travel program!
For a detailed demo of Prime Numbers Technology or for any questions, please email Mark at mark.bresnahan@primenumberstechnology.com.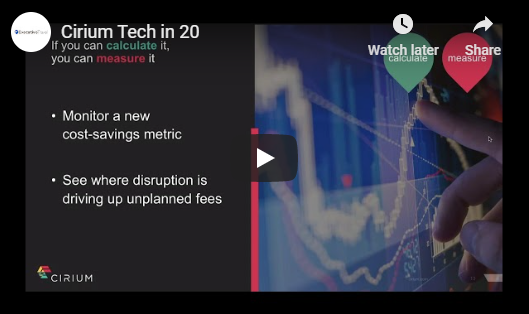 CIRIUM
In an industry that is in constant motion, Cirium helps control the uncontrollable with accurate data, flight monitoring, alerts, and advanced analytics. Cirium's suite of solutions enables you to make more informed decisions and predict future demand. Helping you to improve traveler experience, develop commercial strategy, manage financial investments or elevate air operations. Solve it with Cirium.
For a detailed demo of Cirium, please email Annette at annette.schweiss@cirium.com.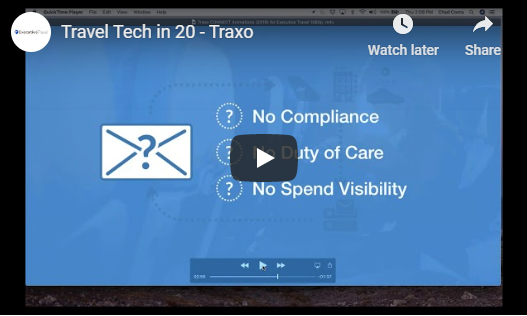 TRAXO
Traxo fuses the travel industry's most advanced parsing engine with powerful itinerary management and the ultimate travel data API. Traxo CONNECT captures all on and off-platform business travel bookings. Corporations – with or without managed travel programs – gain comprehensive visibility into employee travel plans before trips begin and achieve new insights into their overall travel spending.
For a detailed demo of Traxo, please email Chad at chad.costa@traxo.com.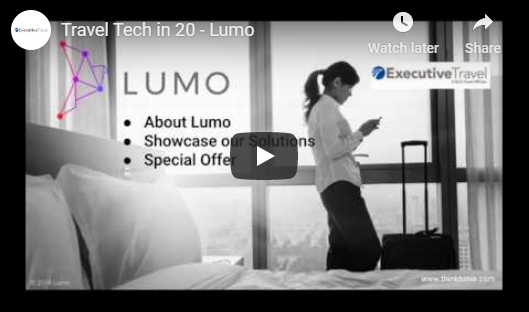 LUMO
Whether you're monitoring five flights or five thousand, Lumo Navigator provides a comprehensive view of current status and predicted delays for all of your travelers so you can proactively manage disruptions. Eliminate delays. Improve traveler satisfaction. Make air travel smarter.
To find out how Lumo can save your company time and money, please email Michael at michael@thinklumo.com.